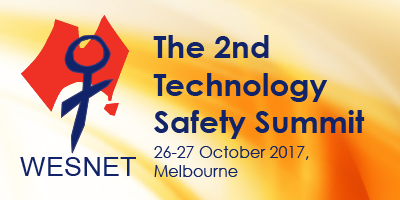 Registrations close 13 October 2017
2nd Annual Technology Summit
WESNET is pleased to announce the date of our 2nd Annual Technology Safety Summit, which will be held 26-27 October 2017, in Melbourne. Building on the success of our inaugural Summit, once again we will bring together national and international experts on technology safety and violence against women. This year's Summit will span two days and focus on presentations and workshops that range from emerging issues such as image-based abuse to cutting edge technology, such as internet of things and smart technology.
Here at WESNET, we're working towards a future where all women and children live free of domestic and family violence and its consequence. In the digital age, understanding how technology works, how to use it, and how to respond when it is misused to assert power and control is a powerful part of making women and their children safer.
Who will be there?
The Technology Summit brings together speakers who are leading the world in understanding and navigating the intersection of domestic violence and sexual assault and technology. Presentations will include:
How technology is used to harm victims – from social media and other online spaces to traditional technology such as location tracking and smartphone surveillance.
How workers can help survivors strategise for safety without having to give up their technology.
How digital evidence can be collected to hold perpetrators accountable.
Current legislation on technology-facilitated abuse and protections available for victims.
Emerging issues such as technology privacy and security and its bearing on survivors of violence against women.
Who should attend?
The TechSummit is for anyone interested in the intersection between technology and violence against women. Workshops and presentations will be applicable for:
Front line workers and NGOs working with women experiencing technology-facilitated abuse.
Police investigating the misuse of technology to stalk, harass, and abuse victims of domestic violence, sexual assault, and other forms of violence against women.
Lawyers and other legal professionals representing clients experiencing technology-facilitated abuse.
Policymakers, researchers, and technologists interested in the intersection of technology, privacy, security and violence against women.
Attendees will also gain the opportunity to engage and build relationships across relevant sectors, supporting knowledge sharing and collaboration to address technology-facilitated abuse.
Sponsorship and exhibition opportunities
We have sponsorship and exhibition opportunities available. Please visit our sponsorship page or Contact us for more details. 
We are pleased that Telstra is supporting the Summit as a Platinum Sponsor.
Thank You to Our 2016 Sponsors!
The inaugural Technology Summit in 2016 was made possible with generous support from Telstra, our Gold Sponsor, and Google.