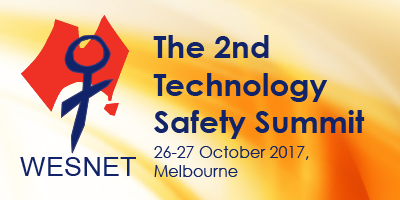 Program
We are still finalising a great program of technology safety content, so check back later for the full program of workshops and plenaries. Meanwhile, here are some important information to know and some of the workshops that we're putting together.
Important to know
The program will take place over two full days, starting at 9 AM on Thursday 26 October with registration starting at 8:15 AM. The summit will close at 5 PM on Friday 27 October. We'll have a mix of plenaries and concurrent workshops, so you'll have plenty to choose from. A light lunch and morning and afternoon teas will be provided.
Keynote speakers and plenary sessions
We're very excited to have great keynote speakers, including:
Mr. Andrew Scott, Telstra's Head of Technology
Ms. Cindy Southworth, Safety Net Founder
Ms. Julie Inman Grant, eSafety Commissioner
Ms. Julie Oberin, Chair of WESNET
Ms. Karen Bentley, Director of Safety Net Australia
Plenary sessions will be held throughout the two days. Panels will include:
Representatives from leading technology companies will discuss how their platforms are addressing violence against women.
Experts from domestic violence and sexual assault agencies, women's legal services, and police will talk about how their communities address technology-facilitated abuse.
More to come.
Workshops
The Fundamentals
Presented by WESNET Safety Net technology safety experts, these workshops encompass a wide range of topics and will equip participants with practical strategies and knowledge that they can apply when working with survivors of abuse. These workshops will focus on the basics, from social media to location tracking to monitoring and surveillance.
In addition to learning how to support survivors, agencies also need to increase their own tech savviness. Safety Net Australia will also offer a workshop on how agencies can use their own technology safely and securely.
Legal Remedies and Enforcement
Technology safety is more than just education around the safe use of technology. It also includes holding offenders accountable for misusing technology to commit stalking, domestic violence, and sexual assault crimes.
One workshop will look at the legal response to these types of crimes across Australia with expert speakers from Women's Legal Services.
Another workshop will discuss how police can investigate and gather evidence of technology-facilitated domestic violence and sexual assault crimes; this workshop will offer a U.S. and Australian perspectives.
Intersectionality
Recognising the reality that technology may have unique impacts on some women, two workshops will dive into specific issues and concerns of survivors who belong to specific groups and how technology impacts their lives. In collaboration with experts from these communities, we will convene a workshop that will focus on survivors with disabilities and another workshop to discuss technology safety concerns of women who are CALD or ASTI.
Emerging Technology and Issues
Technology is constantly innovating and changing how we, as a society, communicate, interact, protect, and even legislate. Some of the workshops will explore emerging technology, laws and issues, such as:
Smart devices and the internet of things, presented by Safety Net Australia and white hat hackers
Image-based sexual assault, presented by RMIT and Safety Net Australia
Safety apps developed for survivors of abuse, presented by Safety Net Australia and app developers