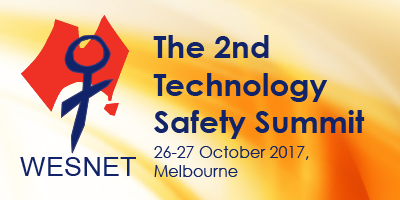 Dates and times
The program will take place over two full days, starting at 9:30 AM on Thursday 6 September with pre-registration the night before and morning registration starting at 8:30 AM. The summit will close at 5 PM on Friday 7 September. We'll have a mix of plenaries and concurrent workshops, so you'll have plenty to choose from. A light lunch and morning and afternoon teas will be provided.
Keynote speakers and plenary sessions
Once again, we will having some exciting keynote speakers. We'll be announcing them soon!
Breakout sessions
Tech Safety Fundamentals
Presented by WESNET Safety Net technology safety experts, these workshops encompass a wide range of topics and will equip participants with practical strategies and knowledge that they can apply when working with survivors of abuse. These workshops will focus on the basics, from social media to location tracking to smartphones.
Diversity
Recognising the reality that technology may have unique impacts on some women, we will host workshops will dive into specific issues and concerns of survivors who belong to specific groups (Aboriginal and Torres Strait Island women, women from culturally and linguistically diverse backgrounds, and w with disabilities) and how technology impacts their lives.
Emerging Technology and Issues
Technology is constantly innovating and changing how we, as a society, communicate, interact, protect, and even legislate. Some of the workshops will explore:
Gaming and online misogyny
Mobile spyware and current research
Image-based abuse
Legal Remedies and Enforcement
Technology safety is more than just education around the safe use of technology. Workshop session will include a presentation on investigating technology-facilitated domestic violence and another workshop will look at laws addressing technology-facilitated abuse.
Law Enforcement Workshop
On 5 September, we will host a one-day pre-Summit training exclusively for law enforcement. This workshop will provide an overview of how perpetrators misuse technology to abuse and the laws that address technology-facilitated abuse. During the workshop, participants will learn practical investigation methods for a range of technology, such as email and computers.
Full program coming soon!
We are currently putting together an amazing program
for the 3rd Annual Technology Safety Summit!
Check back later for more details.