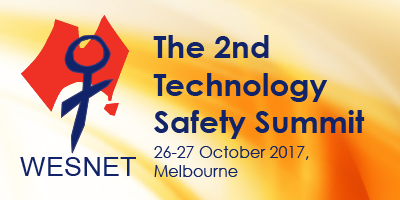 Speakers
We are delighted that these speakers will be joining us at the Technology Safety Summit this year. More speakers will be added as they are confirmed, so check back soon.
Karen Bentley, National Director SafetyNet Australia, WESNET
Karen Bentley is the National Director of Safety Net Australia, WESNET, which examines the intersection between domestic violence and technology. Karen helped establish the program in Australia in 2011 by working with the US-based Safety Net program. A tech enthusiast and strong women's advocate, she combines both passions to lead and manage WESNET's work on technology safety. Major projects include the WESNET-Telstra Safe Connections program, which provides smartphones to women impacted by domestic and family violence; and the Safe Technology for Women project that provides advanced technology safety training to frontline agencies.
Karen has been working with the violence against women sector for nearly 20 years. Karen's career began in the Australian Public Service where she worked in different departments over 14 years, including as a senior executive in the Department of Prime Minister and Cabinet, where she managed the Partnership Against Domestic Violence program. She went on to run a successful management consultancy business for 10 years, working predominantly with government and NGOs. She has held board positions in domestic/family violence or sexual assault services. Between 2008-2012 she also worked in a high security women's refuge in central Victoria.
Detective Brian Franke, President and Founder 2C Solutions, LLC
Detective Bryan Franke is a 30-year veteran of the Longmont Police Department. He is currently assigned to, and was instrumental in forming, the Cyber Crimes Unit, as well as the development of the Boulder County Computer Forensics Lab; a combined computer forensics lab made up of personnel from four agencies. He has been qualified as an expert witness multiple times. Detective Franke has performed forensic examinations on computers, cell phones, GPS units and other portable devices such as tablets, external HDD and various types of flash storage. He is the President and Founder of 2C Solutions, LLC; an organization dedicated to training other professionals on how to investigate, prosecute, and proactively monitor the use of technology by probation clients, as well as how to deal with various digital crime/technology based investigations. 2C Solutions, LLC
Ginger Gorman, Social Justice Journalist
Ginger Gorman is a fearless and multi award-winning social justice journalist. She has an innate ability to connect and communicate with some of the most interesting and marginalised people in our community. Ginger works hard to translate those untold stories into powerful and insightful journalism.
As a result of a story she published via the ABC back in 2010, Ginger and her family became the subject of an international online hate campaign.
Once the stream of cyberhate – and the fear –  died down, she decided to find and interview serious Internet trolls. Ginger was shocked to discover the ways in which cyberhate can wreck women's lives.
This strange journey into the underbelly of the Internet has made her in-demand as an expert on the topic. Not only has Ginger written extensively about trolling and social media self-defense – especially for women – last year she presented a TEDx talk on the subject. She also featured in Tara Moss' "Cyberhate" series on the ABC.
Ginger's most recent four-part investigation into cyberhate and online misogyny for Fairfax mastheads was published to a hail of media and public commentary, firmly focusing the Australian public's attention on cyberhate and how to stop it. She's now writing a book on the topic, which will be published by Hardie Grant in 2019.
Heidi Guldbaek, National Trainer, WESNET
Heidi Guldbaek is a National Trainer for the Safety Net Project at WESNET, where she provides education and expert consultation to practitioners on technology-safety issues that impact survivors of domestic violence and sexual assault. Heidi contributes to technology safety curriculum and content, and advocates for the needs of survivors in policy development and legal reform.
Heidi has worked in the anti-violence against women sector as an educator, advocate and activist since 2007. Prior to joining WESNET, Heidi worked towards overcoming women's structural oppression and injustice in her role as the National Law Reform Coordinator for Women's Legal Service Australia. She has extensive experience in working with victims and victim advocates to ensure that the voices of women escaping violence are heard in policy, program and legislation development.
Heidi is also a member of the Everywoman Everywhere Coalition; an international coalition of practitioners and survivors. She serves on the Mandatory Training and Prevention Education Sub-Committee, working to advance a grass-roots driven international convention on the prevention of violence against women.
Heidi has a Bachelor of Behavioural Science and a Master of Human Rights degree.
Kaofeng Lee, National Trainer, WESNET
Kaofeng Lee is a National Trainer for WESNET Safety Net Australia, where she provides education and expert consultation to practitioners on technology-safety issues that impact survivors of domestic violence and sexual assault. Kaofeng develops technology safety curriculum, writes resource guides for practitioners and survivors of abuse, and has trained more 10,000 practitioners in the United States, Australia, and internationally on issues of technology abuse, privacy, and victim safety.
Prior to joining WESNET, Kaofeng was a Deputy Director of the U.S. National Network to End Domestic Violence (NNEDV) Safety Net Project. In her nine and a half years with NNEDV, Kaofeng worked with victim service providers, technology companies, and policymakers to improve safety and privacy for victims of intimate partner abuse. She has written Congressional testimony, administrative regulatory comments, and participated on committees that address privacy, technology, and safety.
Kaofeng's previous professional experience included working as a bilingual advocate for a local domestic violence program, editing for a publications and design agency, and providing project management for a top 5 accounting firm, where she learned that listening is most important, the Oxford comma should reign supreme, and obsessing over details is totally okay. Kaofeng has a Masters in International Relations from American University and a Bachelor of Arts in Journalism and Communication from Iowa State University.
Sami Makelainen, Telstra
Sami has been involved in building the online and mobile worlds since mid-1990's. Having participated in design and development of one of the first full-service online banking platforms, Sami spent a number of years hands-on with various aspects of the mobile business, from developing mobile payment solutions in North America to defining network systems architectures for Nokia in Finland. Since 2009, Sami has been at Telstra Corporation in Australia, currently in charge of Technology Foresight at the Chief Technology Office. Sami holds an MSc degree in Computer Science from the University of Helsinki and lives with his family in Melbourne.
Julie Oberin, National Chair, WESNET
Julie Oberin is the CEO of Annie North Women's Refuge and Domestic Violence Service in regional Victoria, Australia.  She has worked in the domestic and family violence sector for more than 25 years. Julie has published, delivered conference papers nationally and internationally on domestic and family violence and homelessness, and undertaken important research on women's domestic and family violence services across Australia.  She is an experienced practitioner both working with women and children who have experienced violence, and also with men who have used violence against family members.
Julie is the National Chair of WESNET (the Women's Services Network), Australia's leading women's organisation working on the elimination of domestic and family violence. She is also the contract manager of AWAVA, the Australian Women Against Violence Alliance. Julie currently chairs or sits on a range of other committees and boards including the Victorian Statewide Steering Committee to prevent violence against women and their children; Chair of the Loddon Campaspe Family Violence Advisory Committee; Regional Chair delegate on the Victorian Statewide Family Violence Advisory Committee; and Australian Board member of the Global Network of Women's Shelters.
She was a member of the COAG Advisory Panel on Violence Against Women and co-chaired the Technology Round Tables. Julie also regularly attends the Commission on the Status of Women at the United Nations and has presented at several side events on technology-facilitated abuse and its intersection with violence against women.
Erica Olsen, Safety Net Project Director, NNEDV
Erica Olsen is the Director of the Safety Net Project at the U.S. National Network to End Domestic Violence (NNEDV). Since joining NNEDV in 2007, Erica has advocated on behalf of survivors of intimate partner violence by educating and advocating victim service providers, policy makers, and technology companies on issues of technology abuse, privacy, and victim safety. She has provided trainings to technologists, attorneys, law enforcement, victim advocates, and other practitioners in the United States and internationally. Erica leads the team's ongoing efforts to address how technology impacts survivors' safety and privacy.
Erica's prior work at the NYS Coalition Against Domestic Violence included writing curriculum and training statewide on a project focusing on the intersection of domestic violence and disabilities. She also worked in local domestic violence and homeless shelter/housing programs, conducted research on welfare reform initiatives, taught GED classes for individuals who were court ordered into a mental health facility, and participated in several international social work programs. Erica has a Masters in Social Work from SUNY Albany and a Certificate in Non-Profit Management from the Center for Women in Government and Civil Society.
Cindy Southworth, Executive Vice President, NNEDV
Cindy Southworth, Executive Vice President at the U.S. National Network to End Domestic Violence (NNEDV).  She joined NNEDV in 2002 after founding the Safety Net Project in 2000 to address technology and violence against women. Ms. Southworth has worked closely with over 30 corporate leaders including 3M, Airbnb, Avon, Facebook, Google, Twitter, and Verizon. She has presented internationally in Australia, Austria, Canada, Denmark, Finland, Ireland, Lithuania, Mexico, the Netherlands, Portugal, United Kingdom, and at the United Nations. She makes frequent media appearances on CNN, MSNBC, and other major radio, television, and print media outlets.
Through the Safety Net Project, Ms. Southworth works with private industry, state and federal agencies, and international groups to improve safety and privacy for victims in this digital age. She has presented over 500 trainings to more than 43,000 advocates, technologists, corporate employees, and justice professionals, including over 50 international presentations and keynote addresses. She has testified before Congress and is on many task forces and committees that address justice, privacy, technology, and safety.
Ms. Southworth has a Masters Degree in Social Work and has worked to end violence against women for over 25 years at national, state, and local advocacy organizations. She is a founding board member of the Global Network of Women's Shelters and co-led the 2nd World Conference of Women's Shelters in February 2012. She has spent the past 19 years focusing on how technology can increase victim safety and how to hold perpetrators accountable for misusing technology. Ms. Southworth serves on the Trust/Safety Advisory Boards of Facebook, Airbnb, Uber, Pinterest, and Twitter.