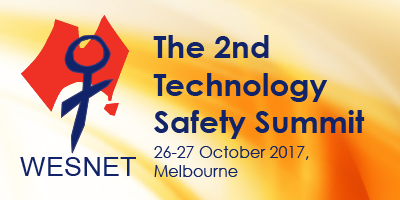 Location: Jasper Hotel, 389 Elizabeth Street, Melbourne, Victoria.
Date: 26-27 October 2017
Audience: 100-250 Domestic Violence Practitioners, Managers, Academics, Government, Justice, Police as well as technologists and communication companies.
All prices are inclusive of 10% GST
INVITATION (Please contact us before 5 October if you wish to be included in the printed program)
WESNET (the Women's Services Network) Inc. is seeking sponsors who share our commitment to the elimination of violence against women for its second Australian National Technology Safety Summit on 26-27 October 2017, at the Jasper Hotel, 489 Elizabeth Street, Melbourne. This conference follows the highly successful inaugural Technology Safety Summit held in Sydney in November 2016.
This two-day conference will focus on the complex issues and concerns at the intersection of technology and domestic and sexual violence, and stalking. With expert speakers from the United States and Australia, we will be talking about emerging trends and issues in technology facilitated abuse and the importance of women using technology to empower themselves. The 2nd Tech Summit will bring together those working with women and their children experiencing violence and other stakeholders from government and corporate Australia.
If you would like the opportunity to become involved in sponsoring this second Annual Technology Safety Summit please contact us.
Your sponsorship will support WESNET in developing strategic responses to technology-facilitated violence and abuse against women in Australia and inform governments, the community, corporate and technology sectors about this important and growing issue. Benefits for your organisation will include:
Promoting your organisations commitment to the elimination of violence against women and girls while increasing their safety and digital inclusion.
Opportunity for in-depth discussion, deliberation and exchange of ideas related to women, violence and technology.
Network with key leaders and decision makers to potentially form cross-sector partnerships and build new collaborative initiatives.
Bring awareness to the conference participants of specific programs or initiatives of your agency in relation to technology and eliminating violence against women or supporting women and children impacted by violence.
We are delighted to have the partnership of Telstra for the second year as Principal Sponsor in hosting the event as well as Google.  Facebook and the Office of the eSafety Commission also support WESNET's work in this field and are sponsors this year.
Below for your consideration is the Sponsorship Prospectus for the 2017 Australian Technology Safety Summit.  We welcome the opportunity to discuss how your organisation, business or Department may be involved, so if you have any specific requirements, please don't hesitate to contact the Conference Organisers on 1800 WESNET (1800 937 638) or techsafety@wesnet.org.au.