Survey #2 Now Open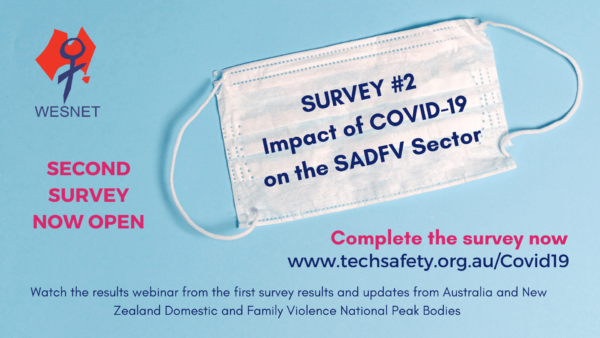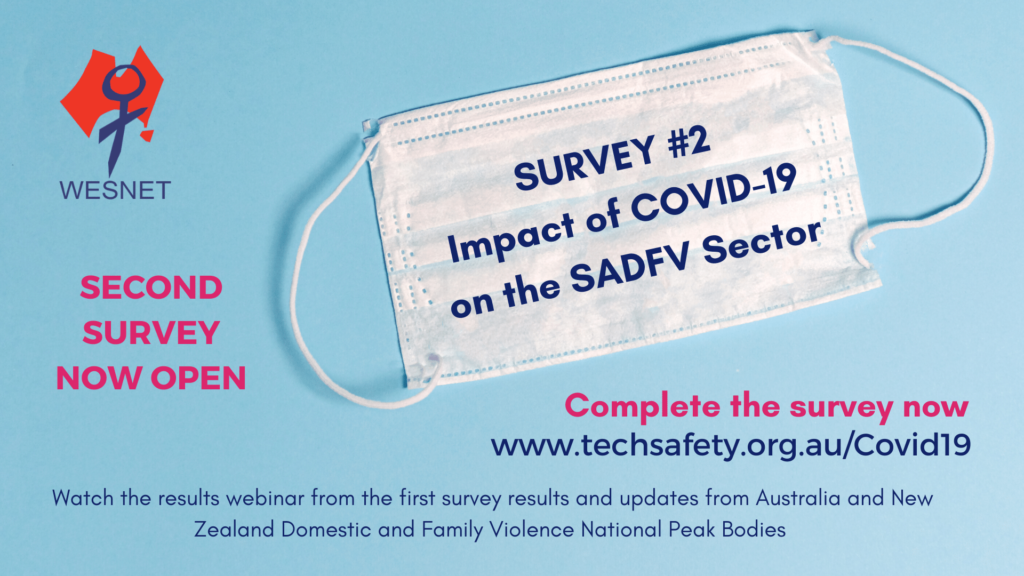 Supporting women at a distance during COVID-19:  Survey Responses Webinar
Our first survey on the impact of COVID-19
These are unprecedented times.  WESNET is really concerned about all the domestic and family violence and other services working with survivors across the country in the COVID-19 Pandemic.  We are all concerned for the women and children you support, your staff and your communities.
We are expecting demand to massively increase over the next weeks in line with countries overseas, so we want to capture what is happening for you over the next couple of weeks. We also want to know what you need and how you are dealing with doing things so that we can share that information.
We've created a survey that takes about 10 minutes to complete and we are calling on agencies to complete the survey twice over the next two weeks so that we can present the findings back to you in a webinar that will be held during the day on 22 April 2020.
Our sister agency Women's Refuge in New Zealand will also be doing the same and will join us so that we can work together across both Australia and New Zealand.
We will also share our results with other women's shelters across the world the following week so that women's shelters across the globe can share information and what is happening during this time.
We urge you to take 10 minutes and fill out this survey, then register for the Webinar to see the results.
Webinar Recording
Global Network of Women's Shelters COVID-19 Webinar Series
The Global Network of Women's Shelters (www.gnws.org), GNWS board members, and continental/regional networks have been hosting free weekly webinars for shelter organizations and other GBV/VAW NGOs from around the world to share strategies and challenges in helping survivors of violence during the COVID-19 pandemic.
From end of May the webinars will be bi-weekly and are a good opportunity to hear from women's shelters all over the globe.
All webinars are recorded and posted online.
The US NNEDV is donating their zoom webinar account, so they list the times first for Washington, DC and you can check the time for your location using the link below to find your timezone.